If there's one thing the team at Daydream Leisure Furniture love, it's our Nardi Outdoor furniture range. With a range of colours, quirky designs and accessories to mix and match with, it's one of the most popular outdoor furniture ranges on offer! And for good reason. Made from high-quality Italian materials, this Nardi furniture range is a sure hit for businesses in the hospitality industry.
One particular hotel 'Skylark Negril' located in the Caribbean island nation of Jamaica, have taken the Nardi Furniture to a whole new level of 1960's styling. Inspired by an era of interior design where pop art, bubble-gum paint colours and plastic furniture were all the rage. The Nardi Furniture used at this newly renovated resort perfectly complements the oceanfront properties and holiday escapes that most customers expect when checking in to a resort!
So, continue reading on to see how Skylark Negril have used the Nardi Furniture range to successfully build their social media platform and transform their Caribbean hotel into a 1960's time warp.
How Social Media Has Reshaped Our Ideas on Attractive Design
Social media platforms such as Instagram, Facebook and Pinterest have influenced the way businesses are now designing spaces. Previously, interior designers would focus on how space would make a person feel through atmospheric qualities and little priority on how space would photograph. In the year 2019, this has completely changed. Instagram-centred designs, great lighting and coloured features to accommodate the perfect photograph has taken priority.
Skylark Negril have utilised the vibrant colours and mix-n-match qualities of Nardi Furniture to their advantage. Bloggers, influencers and your day-to-day social media users love to share every aspect of their holiday, so creating instagrammable-spaces is incredibly valuable.
Just take one look at the aesthetically pleasing photos on their Instagram where minimalist design meets the retro retreat of Skylark Negril. The Nardi Furniture that you see in the image below is the Nardi 'Net Relaxer' chair and Nardi 'Step' round table.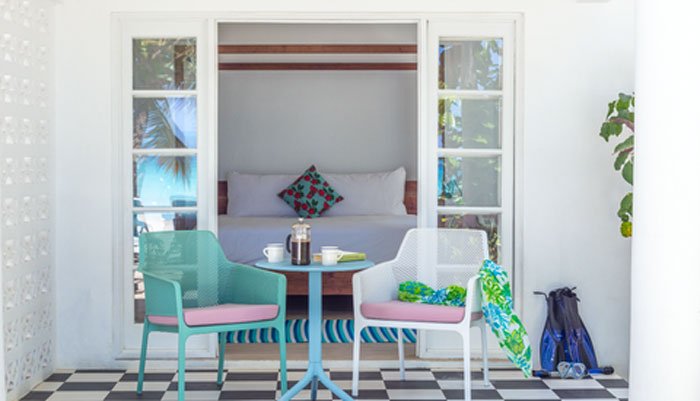 Nardi Furniture compliments Skylark Negril's 1960's inspired style
Interior design in the 1960s was a very exciting era. Following on from the soft pastels and aesthetics intended to evoke wholesome suburban comfort in the previous decade, the '60s was far more expressive and bolder. Accent pieces and explosions of bright orange, blue, green, yellow and red colours were all the rage.
The Skylark resort was able to achieve the pops of colour using the Nardi Furniture range which complements the wall and floor-ceiling features. Mixing and matching the colours of the furniture to evoke excitement within the space, proves how the resort was successful in achieving a very 1960's feel.
Take a look at how great the Nardi 'Lido' stools looks against the vibrant colours used at the Skylark resort bar. Here you can really see the explosion of colour in full effect.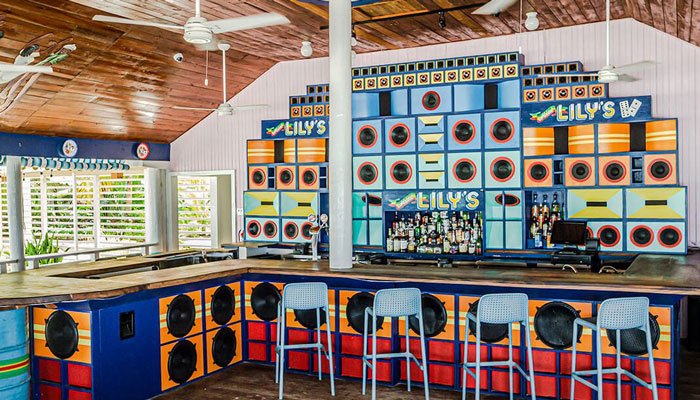 Nardi Furniture benefits
The Skylark Negril design team were very strategic when choosing Nardi to furnish their resort. The Caribbean climate is not forgiving on outdoor furniture. Much like the hot Australian climate, Skylark Negril furnishings have to withstand strong UV sun rays, humidity and tropical weather.
Nardi's outdoor furniture range perfectly complements the needs of Skylark Negril's resort, with all of the furniture made from high quality, long-lasting, water and UV resistant properties. This ensures the rich and vibrant colours continue to look 'as new' even years down the track!
View the Nardi Furniture range today!
 Visit our two local showrooms today to view the full range of Nardi Furniture in stock! Hotels and resorts between the Gold Coast and the Sunshine Coast can also take advantage of our onsite consultants who can assist you to create the perfect outdoor settings for your guests. For more information, send us an email today or call us on 07 5493 4277 (Warana) or 07 5449 9336 (Noosa).