We source only the very best in textilene slings for our aluminium furniture.  We have a mixture of standard textilene and Sunproof.  The care instructions is the same for both.  See following:-
Textilene Slings should be washed down regularly with warm fresh or soapy water.  A soft bristle brush can be used for stubborns stains. To further avoid stains, remove spills promptly.  Rinse thoroughly with fresh water after cleaning. Do not use solvent type cleaners.  Slings are quick drying and therefore hosing them down regularly is an effective way to keep them maintained.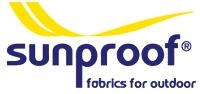 Sunproof is not only a description for our high quality cushions and slings.  It is a brand, a high performing fabric for outdoors.  It's name is a perfect description for what it represents.