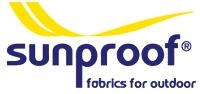 Sunproof is not only a description for our high quality cushions and slings.  It is a brand, a high performing fabric for outdoors.  It's name is a perfect description for what it represents.
'SUNPROOF' SLINGS
Sunproof Textilene Slings should be washed down regularly with warm fresh or soapy water.  A soft bristle brush can be used for stubborns stains. To further avoid stains, remove spills promptly.  Rinse thoroughly with fresh water after cleaning. Do not use solvent type cleaners.  Slings are quick drying and therefore hosing them down regularly is an effective way to keep them maintained.
'SUNPROOF' CUSHIONS 
Despite the wonderful outdoor qualities of Sunproof fabric please follow these instructions.  Never store cushions while wet. We recommend that all cushioned chairs are covered with a furniture cover or stored inside to extend their life.  For cushions with removable covers the best results will be obtained by removing the covers to wash them by hand or machine wash them on a delicate/gentle cycle and line dry in the shade before refitting.
Sunproof fabric is carefully processed and has gone through a special treatment to reduce the fabric absorption of soil and stains. It keeps the fabric looking clean, fresh and new.
To further aid in avoiding stains, remove spills promptly.  Stubborn stains can be removed using a mix of 50ml bleach and 15ml mild detergent mixed with 1L of warm water.  Rinse thoroughly with fresh water after cleaning.  DO NOT use solvent based cleaners, machine wash, dry clean or tumble dry.
Woven from 100% solution dyed olefin yarn.  Sunproof has chosen to use the premium quality of solution Dyed Olefin.  Solution dyeing is a clean manufacturing process as the colour is added before the yarn is extruded. It is friendly to the environment and 100% recyclable.
Resistant to UV damage and fading.  Sunproof applies excellent ultraviolet blocking agents which protect the polymer backbone of the fabric from the effect of UV radiation.
Sunproof fabric is also specially treated with a sanitized product for hygiene protection.  This product inhibits microbial developments and mould stains.